Quick snippets on what's ahead at Terra Linda!
Upcoming Events:
Running Club: Every Tues. & Thur. during lunch recess
OBOB  Meeting: Jan. 19
Movie Night:  Jan. 19
Passport Club: Jan. 25
Dining for Dollars @ Subway: Jan. 25
Coding Club: Feb. 9
Scholastic Book Fair: February
---
Current Needs:
We have many activities that need volunteers:
Read to Me
Running Club
Passport Club
Movie Night Concessions
Please visit our Volunteer Page for the current needs and information on how to become a volunteer.
---
PTC Club and Event Happenings:
Congratulations to Ms. Schroeder's First Grade Class!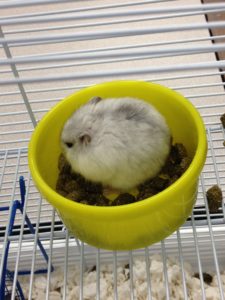 Ms. Schroeder's first grade class won the $100 prize for class participation at the Jog-A-Thon (kudos to Mrs. Kohl's kindergarten class for tying)!
After winning, the class took a vote and conducted research to determine which animal would make the best class pet. Students brainstormed, researched online, and wrote letters to PetSmart to get answers to their questions.
After a review of all their information, students chose a Winter White Dwarf hamster and aptly named her Snowball. Students watched a video and read books on hamster care before preparing a formal class agreement to ensure Snowball is treated well.
Snowball has only been a Terra Linda Tiger for one week but she's received a very warm and ecstatic welcome. Snowball has been a great lesson on motivation and reward, research, and responsibility!
THANK YOU to Ms. Schroeder, her students, and parents for working hard to raise money for our school!
Beaverton School District Clothes Closet
The BSD Clothes Closet is a volunteer service organization that provides free clothing for children, in need, in grades K-12, who reside in the District attendance area. It is staffed by Beaverton School District parent group volunteers. Students can find school-type clothing such as: jeans, t-shirts, polo shirts, sweatshirts, warm coats, socks and underwear.
We wanted to combine Terra Linda Movie Night with an opportunity to give back to our community. Please bring new socks and/or underwear and place them in the lobby bins at Movie Night. There's currently a high demand for larger sizes that fit ages 13-18.
If you are unable to attend Movie Night but would like to donate, we will have a bin available for drop off in the school lobby, 1/22-1/31.
Family Movie Night
The Terra Linda PTC would like to invite you to a fun family movie night on Friday, Jan. 19th @ 6:30pm
Entrance is FREE and put on by the PTC.  
If you'd like to donate to the BSD Clothes Closet, bring new socks and/or underwear and place them in the lobby bins at Movie Night.
Concessions will be available and $1 raffle tickets will be sold to win some amazing Lego sets!!
PLEASE NOTE:
All children will be admitted with a supervising adult present.  Please do not drop off children as we are not providing supervision. Parent/Guardian and/or responsible adult must remain at Terra Linda for the duration of the event and supervise the children they bring.
This movie is rated PG. We'd like to provide you with a movie review to determine if this would be a good movie for your child.
Subway – Dining for Dollars
Our next Dining for Dollars event is Thursday, January 25th from 4-8PM at TWO Subway locations:
14740 NW Cornell Rd (by Kaady Car wash)
455 NW Saltzman Rd (by Dairy Queen).
Just mention you are with Terra Linda when you order, and they will be donating a portion of the purchases back to our school!  They have been a generous community supporter of Terra Linda, and we are excited to partner with them for this event!
Student Directory
A parent volunteer has been working to create a secure (log in protected) online Student Directory.  We are excited to provide this resource to you!
If you would like to edit or opt out of sharing any personal information, please click on this link to opt out by February 1st.
In the coming month, you will receive an email with a log in protected link to access Terra Linda's online student directory.
Oregon Battle of the Books
OBOB will meet on January 19 after school in the library.  Parents can pick up in the library at 4:00.  Please remember to send a note to school so your child can attend the meeting.
This month we will focus entirely on practice battles.  Each team should send a parent volunteer on Friday to help manage battles.
The final meeting of the year will be held in February.  We are working to finalize this date as we need to confirm with several teachers that are volunteering their time for this event.
Questions:  OBOB@terralindaptc.org
Running Club
Running Club reached 763.25 miles in December.  Our January special token was a snowflake that we gave out in 50 degree weather!
Volunteers are always still needed and appreciated.
Running Club also wanted to thank all of our new volunteers who have come out to cheer on the kids.
Questions:  RunningClub@terralindaptc.org
Passport Club
The Winter Olympics are just around the corner- what a great opportunity to teach kids about the nations of the world! Help your students look beyond the games to learn about the homelands of the athletes and gain a deeper appreciation for where they come from.
Online study maps can be found: here  Password (case sensitive): HelloWorld.
Links to special itinerary study guides for 3rd-5th can be found here

Did you know?