The Terra Linda PTC would like to invite you to a fun family movie night on Friday, Jan. 19th
Showing:  LEGO Ninjago Movie, in the gym.
Doors open at 6. Film starts at 6:30.
Entrance is FREE.
Concessions and $1 raffle tickets will be sold. There are some pretty amazing prizes to be won!!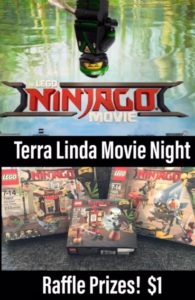 PLEASE NOTE:
All children will be admitted with a supervising adult present.  Please do not drop off children as we are not providing supervision. Parent/Guardian and/or responsible adult must remain at Terra Linda for the duration of the event and supervise the children they bring.
This movie is rated PG. We'd like to provide you with a movie review to determine if this would be a good movie for your child.