This week we'd like to continue our series on Terra Linda Volunteer Profiles.  If you missed our last volunteer interview with Becky Seppala, you can read it here.
Today, I'd like to introduce to you, Lori Miller.

She is a mom of three.  Josie (George Fox University), Josh (Sunset High School) and Gracie (5th grade at TL). She has volunteered at Terra Linda more years than we can tally!  For the past 6 years, Lori has lead the charge to keep the Passport Club an exciting and challenging enrichment program for our students.
Thank you for your commitment to the Terra Linda community!  Please take a few minutes to learn more about Passport Club
An Interview With A Volunteer
A Q&A with Lori Miller – Passport Club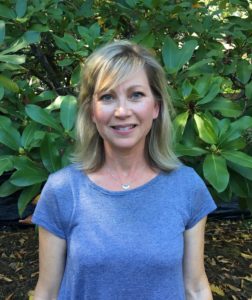 Can you tell us a little bit about Passport Club?
I volunteer for Passport Club, which is an enrichment activity funded by the Terra Linda PTC and fully run by volunteers.  It is a fun international geography program where students learn all of the countries of the world through memorization and review over several years.  Each child that participates receives a Passport; once a month we hold a Passport Club check day where students can earn stamps to glue in their passport.  Time is given during the school day for the students to be quizzed.  Students and parents are encouraged to study at home to prepare for Passport Club.
What do you do as a volunteer for Passport Club?
Officially, I am the Volunteer Coordinator for PTC Passport Club, which essentially means I'm the point person, however, Passport Club is a team effort all of the way!!  I recruit, train, and communicate with all volunteers, and recruit and communicate with our leadership team.  This year, we are excited to have a leadership team of seven! I also schedule the classroom timeslots for check day and work with teachers and staff to ensure it all runs smoothly!  
As with any activity, PTC Passport has several parts to it.  One very important part is we have someone in charge of doing all of our photocopying – hundreds of copies every month!  We have a dad who leaves work early one Wednesday each month to set up all of our tables and chairs so when we arrive early Thursday morning, we are ready to go!  Another volunteer keeps our record book so we are prepared at year end to give out achievement awards to students.  On our once-a-month Passport check days, we have a minimum 16 volunteers who show up to quiz students. Some volunteers no longer have students at Terra Linda. It is really cool to see it all come together.  As always, it is a privilege to be a part of TL and the greater community!
Do you utilize PTC funds to organize Passport Club?
We purchase 300 new passports every summer for the new school year.  We also give away lots of stickers and use many glue sticks!
How does Terra Linda benefit from Passport Club?
One of my favorite things about PTC Passport Club is the opportunity for students to have another adult – not their parent or teacher – encourage and cheer them on.  On a Passport check day, the student will interact with one adult who will quiz their knowledge, another who will get them stamps for their passport, and another to whom they will turn in their passport.  Each of these adults takes the opportunity to encourage the students and say, "wow, I see you worked really hard this month" or, "no worries, next month you get another try – I know with a few minutes preparation you can beat your current level"!  We do a lot of celebrating on Passport check days and it's very special to the kids.  
Can you share a personal experience you've had while heading Passport Club?
I started volunteering for PTC Passport Club when our youngest was in preschool and I had time to slip in for 2 hours as a checker.  When my daughter started kindergarten at TL, I decided to choose one area to dive in and volunteer, and I took over as Volunteer Coordinator. I have committed to this wonderful role for 6 years, and this year will be my final year.  Passport Club has been very special to me, in particular because it has given me the opportunity to meet so many students and be a giant encouragement to them!
If someone is interested in helping out, what is the time commitment? 
If you are looking for your place to volunteer, PTC Passport Club is really great because of our flexibility.  Passport Club is a once-a-month commitment for anywhere from 45 minutes to 3 hours – you decide.  If one month you get called into a work meeting, no worries, come the next month. It is also great because you can see your own child during the check day!